[English] Agile People Fundamentals + Leadership (ICP-LEA) [Online]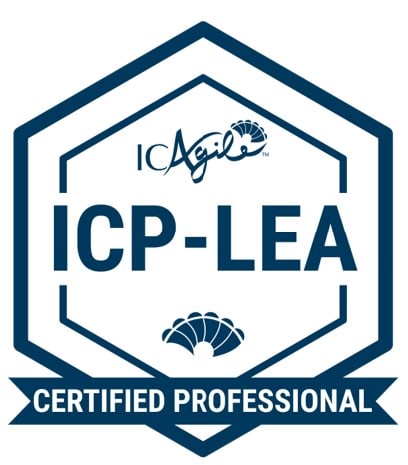 Online
2022-02-21 06:30 — 08:30 IST
ICAgile Certified Professional – Leading with Agility (ICP-LEA)
About

Although the changed view on leaders and of the formal manager role is far from mainstream today, many organisations are experimenting with alternative structures, replacing budgets with forecasts and dynamic resource allocations, to create the best possible value.
In today's fast-paced world we see more and more of self-organisation and self-leadership within people and teams. Information and knowledge is transparent to everyone and power is not anymore in the hands of a few. Does that mean traditional leaders or HR managers and the like become obsolete? Or is there an alternative future role that would be a natural step when leaving the process-oriented and transactional leadership style in favour of ways of working more suitable for a complex reality ?
You will leave this experience having gained both knowledge and practical skills to bring forward new ways of working and being that enable leading in agility within yourself to then enable others and in the environment creating lasting change, engagement, and a truly empowered workplace.
Time Frame
The program is made up of 10 topics that we will cover over 10 intensive online sessions - beginning 21 Feb 2022 and ending on 24 Mar 2022 - 0630 - 0830 India Time.
Check your timezone using https://worldtimebuddy.com


F1 - 21 Feb 2022 Monday 0630 - 0830 India time
F2 - 24 Feb 2022 Thursday 0630 - 0830 India time
F3 - 28 Feb 2022 Monday 0630 - 0830 India time
F4 - 03 Mar 2022 Thursday 0630 - 0830 India time
F5 - 07 Mar 2022 Monday 0630 - 0830 India time

L1 - 10 Mar 2022 Thursday 0630 - 0830 India time
L2 - 14 Mar 2022 Monday 0630 - 0830 India time
L3 - 17 Mar 2022 Thursday 0630 - 0830 India time
L4 - 21 Mar 2022 Monday 0630 - 0830 India time
L5 - 24 Mar 2022 Thursday 0630 - 0830 India time

Target Audience

Agile coaches, consultants, Program Leaders, HR Managers, HR Business Partners, consulting managers, line managers.


These books written by Pia-Maria Thoren are included in digital format.
Program Content

Agile People Fundamentals

Session F1: Introduction to Agile People and important principles/tools

The foundation of Agile People's' mindset is about the principles, values, methods, and tools that we need to start using to release competence and innovation – and what we stop doing. We discuss your challenges and certification assignment.

Session F2: Psychological safety as a foundation for a learning organisation

The importance of an approach that is permeated by security and confidence to increase profitability and innovation – to increase creativity through a culture where it is ok to fail and try again. We play "The Psychological Safety Game" to facilitate dialogue about difficult topics

Session F3: Structuring the organisational ecosystem
Emerging strategies instead of long-term planning, new ways of working with strategy, budgets, goals, performance processes, and rewards. Using value stream mapping to optimise flows in a system instead of working with resource optimisation and sub-optimisation of departments.
Session F4: Growing an agile culture

Creating conditions for a fantastic culture where people can perform at their optimal level with a sense of being supported and secure. The gap between structures and culture/values. Structure – Culture Misfit Role Play. The importance of country culture for an Agile transformation.

Session F5: Creating Conditions for Change
Today we are challenged as people and as organisations to be much more responsive and adaptable, to have the capacity to navigate in complexity. How can we make sense of things when things keep changing, how can we make decisions and act when most of the time we don't have all the information we need and create conditions for change?

Leading with Agility

Session L1: The Why and What of Leading with agility
We explore the changing environment and dynamics that call for a different approach to leading. We also look into the misalignment between what managers think drives their people and what people expect from the people managing and leading them
Session L2: Leadership behaviours that enable agility

We explore the evolution of leadership theories and leadership styles and determine what is still relevant and what might need to change - for instance how the ways in which Power & influence work might change.

Session L3: Knowing and Connecting with Yourself
Here's where we try and understand and embrace ourselves. We understand why we react to things the way we do, what are our biases and can we counter them in some way - and use all those insights to better allow us to choose our responses and change how we show up in interactions. Leading others starts with developing our own self-leadership.

Session L4: Developing and Leading Yourself

How do we develop the 4 Selves of the Leader and explore different contexts to put these into practice; better checking-in with people, giving & receiving feedback too.

Session L5: Skilfull communication

How do we ensure that what we communicate gets the intended result and that we are clear on how to communicate the right stuff in a way that would make sense for people regardless of cognitive differences? We work on the dynamics of effective communication through the lenses of several mental models; and the power of effective storytelling to move people into action.

ICAgile Certified Professional

This training is certified by International Consortium for Agile (ICAgile), a certification and accreditation body.
Upon completion of the course and submission and approval of your course assignment, you will receive (knowledge) certification in ICP-LEA (Leading with Agility).
Learn more about ICAgile ( https://www.icagile.com/ )

Course leader

Your course leader and facilitator will be:
Online Delivery

This course is available online. Prior to our first session, you will receive access to the Agile People Learning Management System where you will access all of the course content, workbooks, and supporting materials.
We are working with different virtual tools. We will provide you guided information to access all of the various tools prior to our first session as well as on-going throughout the experience.
There will be some work to be done after every session, so this class will need your full attention during these intensive days. The certification assignment can be accomplished in the time between the sessions so that you will be ready on the day of the last session. But in this intense tempo, we recommend that you do the assignment after the training has stopped.
Events cancellation policy

If you should have to cancel your registration, notification in writing should be sent to [email protected]. Please make sure you state the name of the conference/event in the subject line of your email.
The online course requires a minimum number of attendees to happen (quorum)
Confirmation of the online course will be sent to all registered attendees as soon as the quorum is reached and, in any case, not later than one week from the beginning of the course
The cancellation policy for registered attendees is:
for cancellations received no later than 2 weeks before that start of the course, 100% of the registration fee will be refunded
for cancellations received no later than 1 week before that start of the course, 50% of the registration fee will be refunded
No refund for cancellations received one week or less before the start of the course. The attendee will still have access to all training material and to the e-learning platform; the attendee will be allowed to join a future edition of the same course at no extra charge.
An attendee may transfer their registration to another person, as long as the request is received by the organizers not later than 24 hours before the start of the course.
In case the organizer is forced to cancel the entire course because the quorum was not reached: registered attendees will be refunded in full.
In case the organizer is forced to cancel part of the course due to force majeure and the training sessions cannot be rescheduled: the attendees will be refunded for the number of training hours that were canceled.
Online
2022-02-21 06:30 — 08:30 IST
€755.00
Country Category 3 #Early Bird
€945.00
Country Category 2 #Early Bird
€1,050.00
Country Category 1 #Early Bird
€840.00
Country Category 3 #Regular
€1,050.00
Country Category #2 Regular
€1,170.00
Country Category 1 #Regular