Agile People Fundamentals + HR (ICP-AHR) Online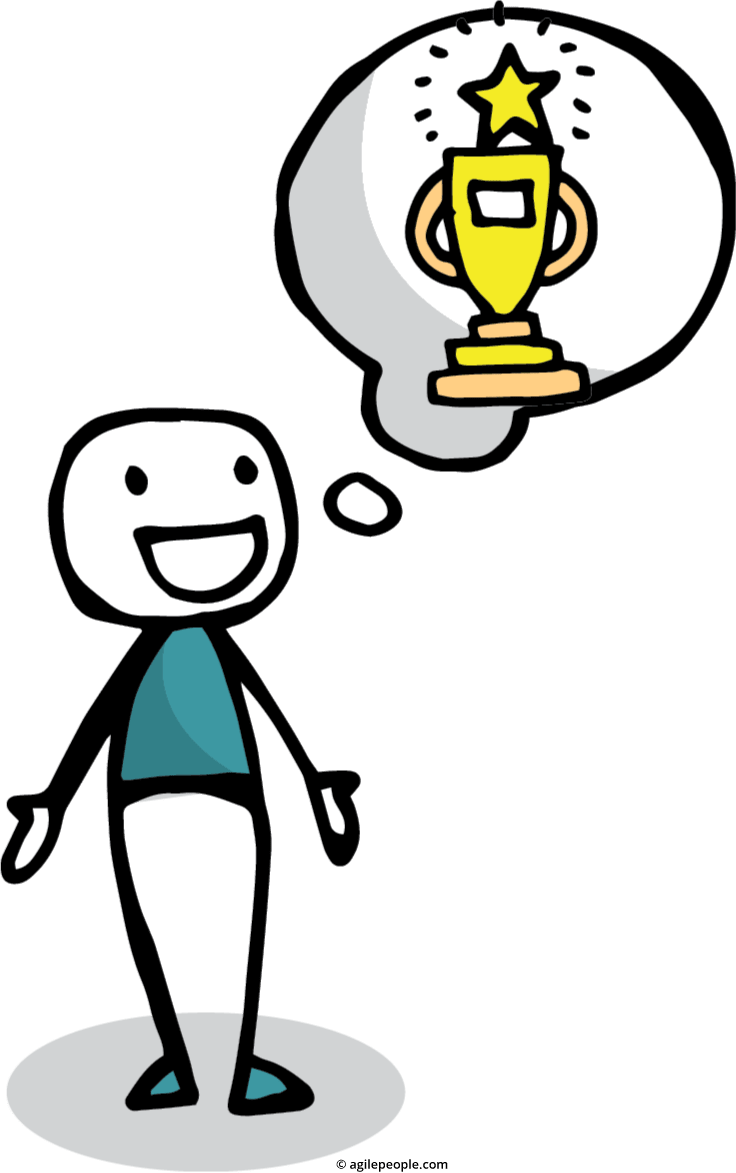 Online
2022-03-08 15:00 —
2022-03-24 19:00 CET
AGILITY IN HR

ICAgile Certified Professional – Agile
HR (ICP-AHR)

El enfoque principal del taller es ayudar a los profesionales de RRHH y agentes de cambio en entender cómo debe cambiar Recursos Humanos para soportar y facilitar la agilidad empresarial de la organización. La agilidad empresarial (también llamada Business Agility) se define como la capacidad que tiene la organización para adaptarse y responder ante un entorno de elevada incertidumbre, así como de liderar los cambios. La transformación agile de la organización no está basada sólo en procesos y marcos de trabajo: sino también de las personas y la cultura. Para lograr este objetivo, las áreas de RRHH tienen dos grandes retos a trabajar:
Cómo funcionar mejor a nivel interno del área, lo que incluye la adopción del mindset y marcos de trabajo agile, junto a la creación de una estructura interna adecuada.
Cómo crear valor en la organización a través de los diferentes procesos de personas, impulsando una mayor agilidad empresarial. Hace referencia a todos los "entregables" del área: gestión del desempeño, compensación total, selección, planes de carrera, liderazgo, gestión del cambio, etc.
El taller oficial de Agile People, incluye la certificación ICP-AHR de ICAgile y sesiones de seguimiento privado para asesorarte en aplicar lo aprendido.


¿A QUIÉN ESPERAMOS?

Este taller va dirigido a personas que forman parte de las áreas denominadas, tradicionalmente, como Recursos Humanos (RRHH), sin importar su rol o perfil. El perfil incluye desde:
Profesionales de RRHH que intentan adoptar agile internamente en sus áreas.
Expertos del área de RRHH en organizaciones donde otras áreas ya trabajan con agilidad, queriendo así transformar su rol de RRHH y dar más soporte transversal.
Personas del área de RRHH que buscan una nueva forma de pensar.
También va dirigido a personas y equipos que trabajan como agentes de cambio y en áreas transversales, lo que incluye:
Gerentes y directores de áreas vinculadas con la gestión de personas.
Agile Coach y Scrum Masters, que trabajan activamente en la adopción agile de la organización.
Equipos de transformación, que lideran proyectos de cambio organizacional.

AGILE PEOPLE HR
SESIÓN 1
Martes 8 de Marzo 2022. 15:00hrs a 19:00hrs (hora de Madrid, CET).
Entender el contexto actual y el rol que hasta ahora tan tenido las áreas de personas en las organizaciones.
Comprender qué es agile, sus principios y beneficios, entendiendo a su vez qué es la agilidad empresarial (Business Agility).
Comprender los fundamentos de Agile HR, haciendo énfasis en cómo vivir el mindset agile dentro del área de personas y en sus distintos entregables.
Tener un entendimiento compartido de qué es la cultura organizacional y sus elementos, generando estrategias de cómo RRHH puede cambiar la cultura organizacional en sus diferentes niveles
.
SESIÓN 2
Jueves 10 de Marzo 2022. 15:00hrs a 19:00hrs (hora de Madrid, CET).
Gestión ágil de proyectos y marcos de trabajo.
Scrum, nociones básicas: roles y procesos. ¿Es Scrum el marco más apropiado para gestionar el trabajo en RRHH?
Design Thinking
Prácticas y artefactos ágiles: ¿cuáles son los más comunes y cómo podemos adoptarlos en RR.HH?.


SESIÓN 3
Martes 15 de Marzo 2022. 15:00hrs a 19:00hrs (hora de Madrid, CET).
Kanban: introducción y principios.
Captación de talento y la experiencia del candidato: diseñar una estrategia de captación y selección que pueda utilizarse para conseguir al candidato "ideal" para sustentar el crecimiento de la organización, tomando en consideración los valores, cultura, diversidad y colaboración en la decisión de contratación.
Motivación de la forma agile: como cimiento para entender las distintas necesidades de las personas, ideando estrategias que impacten en el sistema y no directamente en las personas.
Satisfacción: Recomendar diferentes herramientas que puedes aplicar y entender cómo la encuesta tradicional de satisfacción está cambiando.
SESIÓN 4
Jueves 17 de Marzo 2022. 15:00hrs a 19:00hrs (hora de Madrid, CET).
Diseño y Estructura de la organización y área de RRHH: diagnosticar la estructura de RRHH actual y diseñar una nueva estructura que soporte la agilidad empresarial, maximizando la comunicación y colaboración entre personas y equipos, y que permita la máxima creación de valor.
Descripciones de cargo y roles: Desarrollar un plan de acción para impulsar equipos multidisciplinares.
Carrera y desarrollo: aplicar principios ágiles para diseñar carreras más flexibles y adaptables.


SESIÓN 5
Martes 22 de Marzo 2022. 15:00hrs a 19:00hrs (hora de Madrid, CET).
Aprendizaje agile: sugerir maneras para fomentar y soportar una cultura de aprendizaje en el equipo, impulsando el desarrollo de nuevas capacidades y habilidades.
Gestión del desempeño y objetivos de forma novedosa: cuestionar las prácticas actuales de gestión del desempeño e identificar formas de adoptar la filosofía agile para mejorar los resultados, la responsabilidad y el crecimiento.
Salarios y beneficios en una organización agile: describir y contrastar los planes de incentivos tradicionales con modelos ágiles de compensación.
SESIÓN 6
Jueves 24 de Marzo 2022. 15:00hrs a 19:00hrs (hora de Madrid, CET).
Entender la importancia de la seguridad psicológica como prerrequisito en una organización agile.
Liderazgo agile: conocer qué es el liderazgo agile y su diferenciación de otros estilos de liderazgo.
Conocer el Rol de RRHH en una organización agile.
Idear planes de acción de cómo aplicar lo aprendido en las organizaciones.
Conclusiones y cierre.
ICAgile Certified Professional
Una de las certificaciones de ICAgile es Agile HR: Certificación de ICP-AHR. Esta certificación forma parte de la rama de Business Agility y está diseñada para las áreas tradicionalmente denominadas como Recursos Humanos (RRHH), que son parte de organizaciones que se encuentran transformándose hacia agile. Se pueden ver más detalles aquí: https://www.icagile.com/Business-Agility/Operating-with-Agility/Agility-in-HR

Learn more about ICAgile ( https://www.icagile.com/ )

FACILITACIÓN Y METODOLOGÍA

Your course leader and facilitator will be:
Claudia Salas

El taller será en modo online, donde los asistentes participan de forma virtual en tiempo real, realizando actividades y dinámicas permitan poner en práctica los contenidos referidos en la agenda del curso. Se dispondrán de distintas herramientas digitales que se pondrán en conocimiento antes de empezar formalmente el taller. Hemos roto con la clásica formación online de forma que, además de tener una experiencia única de aprendizaje, ¡te vas a entretener mucho!
Los talleres se conforman habitualmente de grupos entre 8 y 10 personas, garantizando así la calidad de la experiencia formativa.


Events cancellation policy

If you should have to cancel your registration, notification in writing should be sent to [email protected]. Please make sure you state the name of the conference/event in the subject line of your email.
The online course requires a minimum number of attendees to happen (quorum)
Confirmation of the online course will be sent to all registered attendees as soon as the quorum is reached and, in any case, not later than one week from the beginning of the course
The cancellation policy for registered attendees is:
for cancellations received no later than 2 weeks before that start of the course, 100% of the registration fee will be refunded
for cancellations received no later than 1 week before that start of the course, 50% of the registration fee will be refunded
No refund for cancellations received one week or less before the start of the course. The attendee will still have access to all training material and to the e-learning platform; the attendee will be allowed to join a future edition of the same course at no extra charge.
An attendee may transfer their registration to another person, as long as the request is received by the organizers not later than 24 hours before the start of the course.
In case the organizer is forced to cancel the entire course because the quorum was not reached: registered attendees will be refunded in full.
In case the organizer is forced to cancel part of the course due to force majeure and the training sessions cannot be rescheduled: the attendees will be refunded for the number of training hours that were canceled.
Online
2022-03-08 15:00 —
2022-03-24 19:00 CET