Agile People HR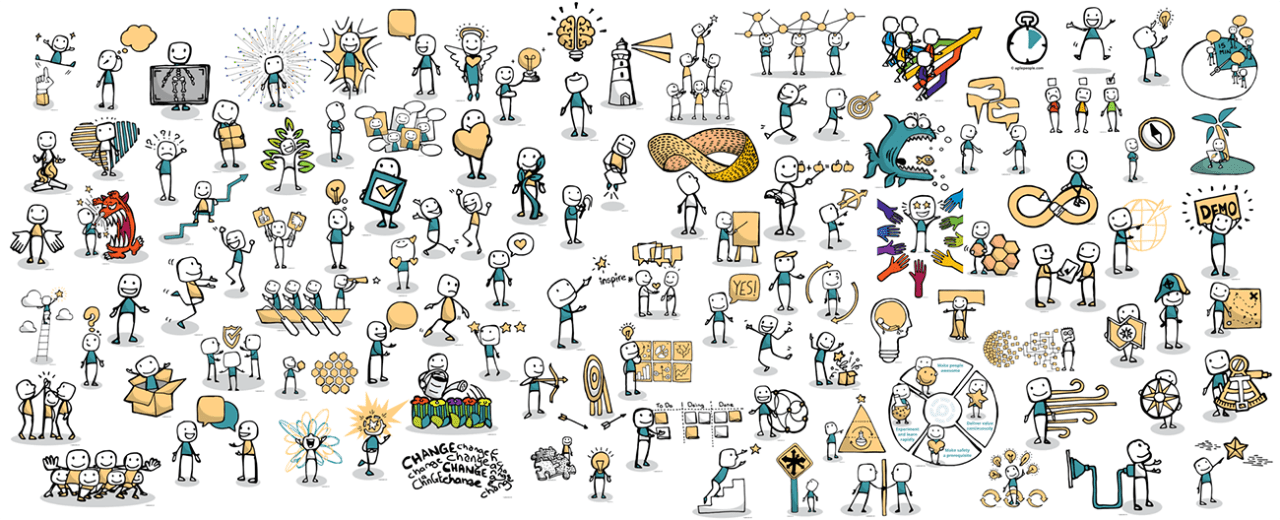 Online
2023-01-31 13:00 —
2023-04-28 15:00 CET
Agile People HR
Foundation + HR
ICP-BAF + ICP-AHR | 10 Online Sessions
Read an article about the Agile People Coach here
Feedback from participants in previous courses:
I'm so happy that I found this course, it has inspired me to change my agenda for my career and business content. I want to spread the Agile mission!

Fantastic!

Great work, great instructor, and great team! I loved the whole journey

Awesome course

Great experience, really enjoyed it!
In the future of work, HR and Managers will need to take an Agile People Coaches' role, with the necessary competence in basic human needs, behaviors, teamwork, and how to support an emerging strategy towards the organization's purpose.

An Agile People Coach is working inside an organization as an employee or a consultant and wants to spread the principles and values to every corner of the company. You want to bounce ideas and get inspired by a community of like-minded people who have the same goal: increasing business agility and helping organizations on their learning journey/transformation by supporting HR and Leaders to attain an agile mindset.
The Agile People coach is an alternative career for traditional managers and HR professionals. An Agile People Coach is more than an Agile Coach, although the basic understanding of agile values, agile tools and methods, systems theory, and organizations are the same. The difference lies in the deeper People's perspective. During this training, you will learn how to coach people to find a place where they can be the best they can be and create conditions for people to perform together.
This training can lead to Professional Certifications in Business Agility Foundations, and Agility in HR with Agile People and ICAgile.

the Agile People Coach training, we cover 3 perspectives:
Individual perspective (YOU)
Knowing yourself and why you do what you do: The Reiss Motivation Profile (RMP) shows your basic needs and motives and contributes to a better understanding of yourself and your leadership.
Developing yourself and understanding biases, mind traps, and how to avoid judging
Communicating effectively using storytelling and visualization are powerful tools.
Coaching others to find their perfect place in the organization taking their personality, interests, and passions into account
Team perspective (WE IN OUR TEAM)
How to increase the pace from immature to mature high-performing teams, using skills for communication, leading, coaching, and conflict resolution
How to grow and develop teams to be independent and empowered to make their own decisions, for example, about their contribution to the organization's goals or their salaries
Organizational perspective (ALL OF US)
How to balance an agile culture with an agile structure, providing enough support for emerging strategies where all people are involved in setting the direction (via OKRs or other kinds of relative targets)
How to work to change behaviors – accomplishing an agile mindset and culture through removing limiting structures like annual budgets linked to fixed performance targets and individual bonuses
Create conditions for a Learning organization where it's ok to make mistakes and learn from them, which requires a platform of Psychological Safety
Target Audiences
Agile Coaches who want to understand how to help HR and Leaders to attain an agile mindset and support them in change initiatives

Leaders or HR professionals at any level in an organization who aspire to lead an organization on a business agility journey

Leaders who see the value of growing an agile organization and are committed to developing themselves as agile leaders to achieve that aim

Anyone wishing to learn about the paradigm shifts necessary to lead in adaptive environments and to develop relevant leadership and HR capabilities to support the change

HR-Consultants, Management Consultants, Change Managers, or Agile Coaches who want to use the Agile People course content and exercises as part of their product portfolio.
Agile People Coach / Trainer with Agile People
After the training, you can become a partner with Agile People and offer courses from your own company or as a consultant/employee in a larger organization. Contact Pia-Maria Thorén at [email protected] to find out more about this option.
Training Program
If you miss a session, you can take it back in the next course round.
Session B1-5 Agile People Foundation
Session B1: The Need for Business Agility
In today's Volatility, Uncertainty, Complexity, and Ambiguity (VUCA) environment, business agility is more and more critical for success. New values and principles and self-organizing teams with the right mix of cognitively diverse people close to the customer experience and empowered to make decisions are the new competitive edge.
Session B2: Emergent Strategy and Value Creation
Aligning teams around a strong purpose and focusing on generating a vision is essential to providing inspiration and creating high performance. It's imperative to empathize with customers to maximize customer value and make it visible to focus on value creation.
Session B3: Frameworks Tools and Techniques
Agile is about adapting to change. You adapt to the customers' changing needs and work according to priorities to deliver the most significant value for the customer first. Using a Lean StartUp approach, you can test your hypothesis with a Minimum Viable Product. Using Scrum, Kanban, and Value Stream Mapping in the whole company is not different from using it for Software development. What are examples, and how can you design your processes using the agile ways of working?
Session B4: New Ways of Thinking and Behaving
The ability to recognize and understand complex adaptive system dynamics accelerates the path toward Business Agility. It is not only our organization's dynamics that we should understand and manage with "Polarity Management" and "Cynefin Decision Making Model"; but also our personal thinking & behaving patterns by the concept of the "Ladder of Inference."
Session B5: Business Agility as the New Normal
In today's fast-moving and complex environments, we need to be much more responsive and adaptable to navigate the complexity. To do that, we need to:
Understand how to make sense of business challenges when things keep changing

Be able to make decisions and act when we don't have all the information we feel we need

Create the conditions to allow the right culture to grow

for

everyone

to

perform at their best

.

In this session, we will recap the impact on business.
Due to our VUCA world, we will explore what is needed in the business to embrace agility, deepen understanding about the structure/culture misfit, and the reasons transformation can fail.
Session H1-5 Agile People HR
Session H1: How HR's role is Changing when we need to Increase Business Agility
Design the talent/people elements needed to help support an Agile transition in an organization and explain how different contexts can influence the approach. Job titles, competency profiles, titles, career, succession – how do we do it in an agile organization? User stories for HR and a T-shaped HR-person. Employee Journey mapping – pain points. Examples and cases.
Session H2: How HR can use Tools and Practices from Agile
Using Scrum, Kanban, Value Stream Mapping, and OKRs for HR is not so different from software development. What are examples, and how can you design talent/people processes using the agile ways of working? User stories for HR – what do they look like? Examples and cases of Agile HR in reality.
Session H3: Goals and Performance Management and Compensation and Benefits
Appraise current performance management practices and identify ways of bringing Agile thinking to enhance performance, accountability, and growth—95/5 Exercise. Describe and contrast traditional incentive structures with Agile-friendly structures, discuss the pros and cons of each approach, and explain how you could apply them to your own environment.
Session H4: Talent Acquisition and Onboarding
Design a sourcing strategy that you can use to find and acquire the "right" people to support the organization's strategic growth taking values, culture, diversity, and collaboration into the hiring decision. Design an onboarding experience that enables new employees to become a part of the organization rapidly and smoothly.
Session H5: Learning and Development and Employee Engagement
Suggest ways to enable and support a learning mindset in a team, supporting the shift from focusing on deficiencies to focusing on developing new skills and capabilities. Recommend different motivational tools to be applied in a context and describe how the traditional employee engagement survey is changing.


Agile People - a global community

You are welcomed into the international Agile People community, a global network of agile professionals working together to help organizations increase agile values using principles, tools, methods, and models. The vision is to create better organizations with happier employees and higher adaptability to cope with the changing reality.
After the training, you can subscribe to the training material and the exercises you can use in your organization or with your clients. Maybe you work today in an HR role or have been a leader for a shorter or longer period. Or maybe you are an agile coach who feels ready for deeper challenges and understanding regarding people and how HR and leaders need to change so that you can support them in their future roles.
FAQ
Do I need any pre-competence?
You don't need any pre-competence to attend the online course. We are tailoring the course for the participants and your level. As a bonus, you will learn how to use modern digital tools, like digital Canvases, Video meeting platforms, Kanban boards, etc.
How does the process look for this training?
We will use virtual online tools to communicate, learn and interact. You will need a good internet connection and an undisturbed workplace where you can have a quiet background. We will work in break-out sessions in Zoom and use our community platform for communication between the instructor-led sessions. We will go through all practicalities during the first session.
Are the sessions scheduled on specific days at specific times?
Yes, the sessions take place according to a schedule for the year that has been predetermined. If you miss a session, you can always take it back at a later session.
After training completion, what is the process to become ICAgile Certified?
The certification process requires finalizing the certification assignment and answering several questions after each session. When the assignment is finalized (approved with feedback from us), you can buy your ICAgile certificate in our shop. We will make your certificate download available from ICAgile via a link. The Agile People Certificates are included in the training price after finalizing the course, and there are separate certificates for the modules Foundation, HR, Leadership, and Coach.
Online Delivery
We are working with Zoom for interactive discussions and team exercises, Mural as the digital canvas, and our community platform for communication between the sessions. You will get access to a Learning Management System (on agilepeople.com) that contains an overview and detailed information about videos, articles, documents, and case stories for all sessions, including links to all of the tools used in training. You will also get access to Pia-Maria's 3 books in digital format.
There will be some work to be done after every session, so add about 3 hours more every week. We will distribute course literature and material digitally. You will accomplish the certification assignment between the sessions to be ready on the last session's day.
Events Cancellation Policy
If you should have to cancel your registration, a notification in writing should be sent to [email protected] Please state the name of the conference/event in the subject line of your email.
We will refund 85% for cancellations received 30+ days before the start of the event.

We will refund 50%

for cancellations received between 15-29 days before the event's start.

We will refund 25% for cancellations received between 7-14 days before the event's start.

We will issue no refund for cancellations received within 7 days of the event's start.

You are allowed to send a colleague.
Online
2023-01-31 13:00 —
2023-04-28 15:00 CET
€1,170.00
Agile People Coach training Country Category 1
€1,050.00
Agile People Coach training Country Category 2
€840.00
Agile People Coach training Country Category 3